Subscribe
Join 100,000+ CNC'ers!  Get our latest blog posts delivered straight to your email inbox once a week for free. Plus, we'll give you access to some great CNC reference materials including:
Our Big List of over 200 CNC Tips and Techniques
Our Free GCode Programming Basics Course
And more!
A simple GD&T drawing…
If you work from prints that 3rd parties send you to make parts from, chances are you've seen some Geometric Dimensioning and Tolerancing (GD&T) symbols on them.  GD&T is the industry standard to communicate size, location, orientation, and form requirements on an engineering drawing.
We offer a free mini-course on just the bare essentials for GD&T.  It'll get you started, but whether you are a seasoned machinist, engineer, or designer, or its your first day on the job, you need to be fully confident in your ability to understand GD&T if you are going to be successful working with engineering prints.
So how is your experience working with GD&T?
• Are you fully confident that you are interpreting GD&T callouts and requirements correctly?
• Do you know how functional relationships are made between the features on your part?
• Are you aware of what the geometric tolerances control in 3D space?
• Do you know why geometric requirements are used in certain situations?
• Are you frustrated with designers putting unnecessary restrictions on your processes?
• Can you use GD&T on your own designs to make the parts cheaper to manufacture and come out right the first time?
• Do you rush to lookup and relearn each GD&T symbol every time you come across one in a drawing?
I know I wasn't confident in a lot of that even after a tremendous amount of study and research.
Are all of these symbols immediately obvious?
Even if you have decided to get GD&T training or a refresher, what are your options? If you look at most GD&T training programs they are overly complex, take you out of work for 3 days and cost thousands of dollars per person. This would make anyone try to get by without good training!
Don't worry if any of this sounds painfully familliar– you are not alone. Millions of dollars of scrap and deviations occur at shops all over the country from those who misinterpret, miscalculate, or simply ignore GD&T principles.
I didn't really get GD&T when I bid that job.  Ouch!
But wouldn't you like to feel super confident with your GD&T knowledge?  Wouldn't it be great for your career if you were the guy who could answer the questions?
Well, I have some great news for you. CNCCookbook has partnered with GD&T Basics, the #1 online GD&T training resource, to come up with a package that gets you confident with GD&T quickly.  I checked it out when founder Tom Geiss approached me out of curiosity about our own CNCCookbook course.  After a long call where we were literally finishing each other's sentences and learning a lot, we decided we had to do something together.
Their flagship program: The GD&T Basics Fundamentals Course allows everyone who works with engineering drawings to apply important GD&T concepts correctly and confidently right out of the gate. Their instructors focus exclusively on how to help professionals like you clear up common errors, misconceptions, and tricky issues about the topic.
The great news is that I've arranged a deal with the guys at GD&T Basics to offer their revolutionary training program for 10% off their already low pricing for both of their course plans. This deal will go away at the end of March though so it's important to jump on this now!
Here's what you get with their program:
• A full education on the fundamentals of GD&T that is hundreds (or even thousands) of dollars less than classroom programs. Honest, it's very inexpensive when you see what you get and what it can do for you.
• Flexible 180 day or 60 day options for those who need time to learn or for those looking for a quick refresher.
• 24/7 access to the full course from any device – even on mobile or tablet. No need to plan it into your work schedule.
• Graded quiz questions and handouts that immediately follow the lessons, which allow you to practice applying concepts discussed in the lessons.
• Full forum access, where you can communicate with other students and our instructors to clarify any questions that arise during the lesson.
• The Premium GD&T Wall Chart – The best GD&T chart on the market. This well-organized learning aid will allow you to easily reference the material when you get back to work.
• GD&T Certificate upon 100% course completion.
• Money Back if you're not satisfied. (30-day return privilege for premium, 15-day for standard)
This course is really slick, easy to follow, and well done.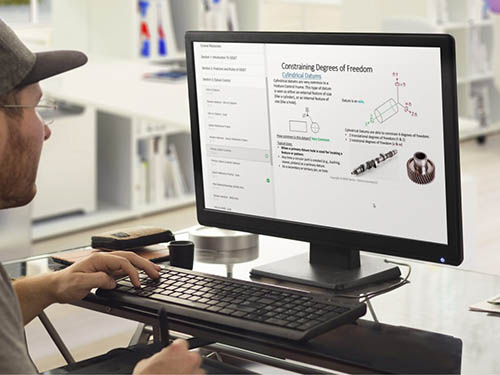 Check out what some of their customers thought about the courses:
"The course was extremely well-taught and made difficult concepts as easy as possible to grasp. Even after just a few hours of this course I'm already one of the more knowledgeable people at my company with GD&T. This course is thorough and leaves no gaping holes in knowledge. I'm looking forward to taking the advanced course!"  
– Logan V. -Machine Shop Owner
During my conversation with Tom, I learned that multiple schools have built this course right into their curriculum–that tells you it's professional quality right there.
Hey, don't take my word for it.  I've arranged to bring you several of their effective GD&T lessons to help you try out the course platform and improve your skills – all for free!
That's right, you can try out a few of the lessons completely free and see whether they're for you.  Just click the button below and you will be enrolled in their sample course – exclusively for CNC Cookbook readers.
I look at it this way: CNC is a precision science and you need to be comfortable with how dimensions and tolerances are expressed if you want to succeed.  We found out it's a skill that just over half the professional CNC'ers we surveyed possess.
But, here's the catch…
How many of them are really comfortable with GD&T versus just having a passing familiarity?
Making their students confident is what Tom Geiss set out to do with his courses, and as you'll see, that's exactly what they do.
Like what you read on CNCCookbook?
Join 100,000+ CNC'ers!  Get our latest blog posts delivered straight to your email inbox once a week for free. Plus, we'll give you access to some great CNC reference materials including:
Our Big List of over 200 CNC Tips and Techniques
Our Free GCode Programming Basics Course
And more!
Just enter your name and email address below:
100% Privacy: We will never Spam you!