Subscribe
Join 50,000+ CNC'ers!  Get our latest blog posts delivered straight to your email inbox once a week for free. Plus, we'll give you access to some great CNC reference materials including:
Our Big List of over 200 CNC Tips and Techniques
Our Free GCode Programming Basics Course
And more!
Have you noticed that manufacturing is cool again?  Seems like it has been a long time.  But, thanks to 3D printing and a new DIY/Maker movement, there are definite signs that manufacturing is cool again and that the mainstream public is very interested in it.  Here's a sampling of the cool:
Personalized Products
A number of big brands are announcing personalized manufacturing initiatives that involved 3D printing.  For example, the athletic shoe companies are really jumping (no pun intended!) on the 3D printing and custom manufacturing bandwagon.  New Balance is going to offer customized 3D printed spikes to the soles of their shoes:
They monitor athletes with over 100 sensors to determine the optimal placement of the spikes based on that athlete's specific footwork.  Suddenly it's become very hip to mention 3D printing in press releases for mainstream products.
Not to be left out, Nike has also announced 3D printed football cleats:
As another example, companies like Apple are doing personalized engraving on products selling in the tens of millions of units.  Apple in general has been all about cool manufacturing.  Expect to see personalization driving ever more innovative manufacturing technologies to the big leagues.
Mainstream Manufacturing Access
Companies like Staples are announcing trials that give the public access to 3D printing.  We wrote about Staples' 3D printing initiative a little while back.  Dreambox are trying to create a 3D Printing vending machine that anyone can walk up to and get back a 3D printed prototype of what they design:
This trend is all about putting manufacturing in the hands of more people who don't even have to purchase any machinery.
New 3D Printing Products are All the Rage on Kickstarter and Other Crowdsourced Venues
Consider 3D Doodler, a 3D printing pen that has raised well over $2 million on Kickstarter as I write this and still has 17 days to go.  It can be used to create objects like these very cheaply:
There's been an explosion of 3D printing related projects that are very popular on venues like Kickstarter.  Seems like a new one is constantly being launched and many of them do very well.  My favorite was the Form high resolution DLP 3D Printer.
Uber Cool Niche Products
Venues like Kickstarter are not just places where new 3D printers get introduced, they're prime marketplaces for the Uber Cool Niche Products that have become so popular.  One of the biggest problems any would-be manufacturer has is finding customers for their products.  Once upon a time, you had to find some big retail chain that wanted to take the product on.  That was a hit or miss proposition just getting signed up and the retail chain was going to take a big bite of your profits.  Fewer products could be sold this way and their margins would be much thinner.  But, quantities would be huge.  Everyone wants something new and personal that everyone else doesn't already have.  Enter the Kickstarters of the world, which connect buyers with sellers of great new products.  They're an ideal market for manufacturers with new products to begin with.  We've written about several kickstarter projects before, such as the Ti2 pen I use every day: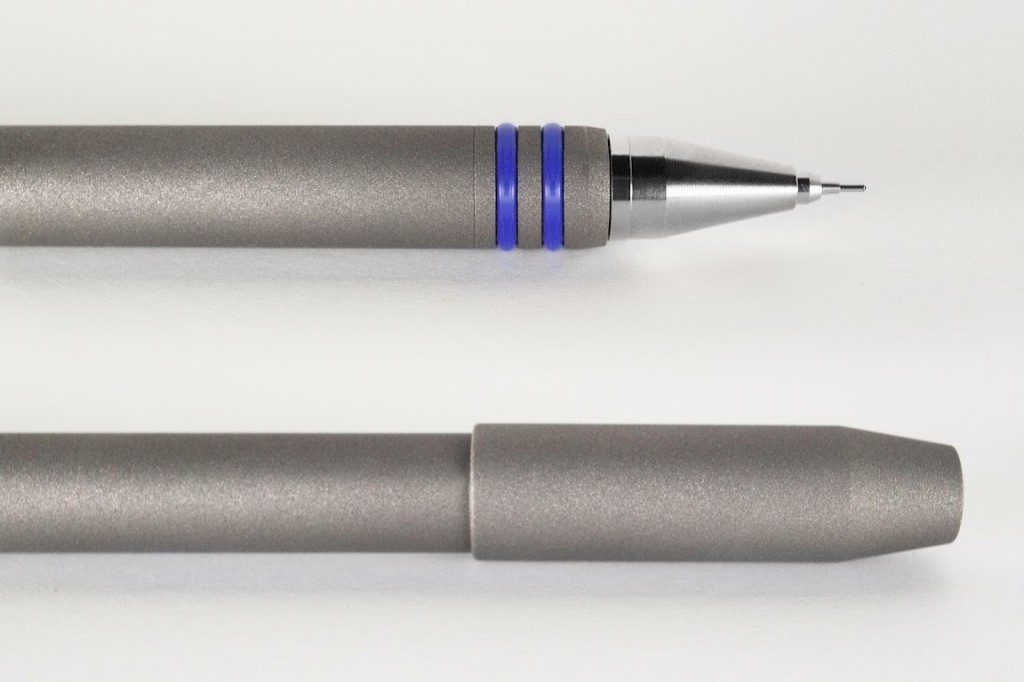 Mike Bond's incomparable Ti2 Pen.  Check his Kickstarter page for some CNC video of its construction…
I recently visited the shop that made the Ti2 pen (they're G-Wizard users) and what a great visit it was.  They've done several Kickstarter projects and have more on the way.  They just commissioned a new water jet cutter that was used to do a Titanium Clip project on Kickstarter, for example.
It's also never been easier to manufacture your own great niche products.  Whether you want to convert an inexpensive manual machine tool or purchase a finished CNC machine like the Tormach, you'd be surprised at how cheaply you can have full-on CNC manufacturing at your finger tips.  Michael Hackney, another of my G-Wizard customers has a business making custom CNC fly fishing reels called the Eclectic Angler.  He makes very nice fly fishing reel kits that allow enthusiasts to put together their own reels:
Manufacturing is Hip Again
Manufacturing is hip again in all sorts of ways.  Markets and Technologies enable it to be done on small scales by more people than ever.  More products get a chance to be successfully and people are more interested in digging out unusual new products than ever before.  The Internet and services like Kickstarter make the marketing easier so manufacturers can focus more on being manufacturers, at least at smaller scales.  These are good times to want to manufacture your own products.  If there's anything I still wish we could change, it is the assumption by some that you have to offshore the manufacturing of your product.  I'm appalled when I see people recommending it to small scale manufacturers.  It is nearly always the wrong thing for them to do.  We can question whether mighty Apple has to do it, but certainly smaller companies do not.  There are loads of great machine shops with helpful people who can build your product, just like my firends with the Ti2 pens.  They're just a regular machine shop with some guys who get excited about building their own products too.  This shop and others like it would be more than happy to help you get your product made and there are also plenty of opportunities for you to do your own manufacturing.
These trends in manufacturing are only going to get stronger and I'm really looking forward to seeing all the great new products and technologies that are still to come.
Like what you read on CNCCookbook?
Join 50,000+ CNC'ers!  Get our latest blog posts delivered straight to your email inbox once a week for free. Plus, we'll give you access to some great CNC reference materials including:
Our Big List of over 200 CNC Tips and Techniques
Our Free GCode Programming Basics Course
And more!
Just enter your name and email address below:
100% Privacy: We will never Spam you!
4 Comments